BACK

The Mystery of Jazz Defined:
What is This Thing Called Jazz?
Insights and Opinions from the Players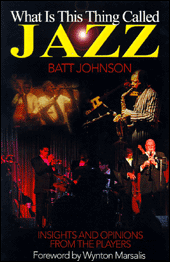 New York - Noted trumpeter Wynton Marsalis wrote in the foreword to What is This Thing Called Jazz? Insights and Opinions From the Players, "The major obstacle facing the current generation of musicians is finding out what makes something jazz."

The answer to the question "what is jazz?" is as complex and diverse as those involved in it. This book takes the question to noted musicians, scholars, and composers, creating a documentary-style oral history of America's classical music that makes you feel as if you are actually in the room as they put the sounds they know as music into words.

Author Batt Johnson realizes that there is no better authority on jazz than the creators, educators, and writers who have made this enigmatic musical style a major force internationally as well as in American history. That is why he gave the musicians such a major platform in this unique book, which also features chapters on Africa and its contribution to jazz, New Orleans and its contribution and a chapter on the early players of jazz.

He spent several years interviewing such musicians as Elvin Jones, Ray Charles, Chet Baker, Milt Jackson, and Buddy Rich. "Many people know the music of these legendary musicians, but few have heard what they have to say about jazz," says Johnson, who has written for Swing Journal Magazine, the jazz magazine of Japan; The Kansas City Star Newspaper; and was the writer and national host for VH-1 Music Television.

"One of my goals is to give something back to a community that has given me so many musical riches. I am donating a portion of my royalty proceeds from the sale of this book to the Dizzy Gillespie Cancer Institute at Englewood Hospital in Englewood, New Jersey."




What is This Thing Called Jazz? Insights and Opinions from the Players is available at 1-877-823-9235, www.iUniverse.com, www.barnesandnoble.com, www.borders.com and www.amazon.com. $15.95 317 pages ISBN 0-595-13037-2



BACK
top of page