BATT JOHNSON
Communication Consultant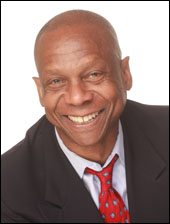 Batt Johnson is a communication consultant, media and speech coach, award-winning actor and veteran radio and TV broadcaster, who teaches the art of communication for public persuasion. His clients include MSNBC-TV, Financial Educators, Inc., the stars and All-Stars of the NBA (National Basketball Association), Genome Technology Magazine and the USTA (United States Tennis Association).

He appears in television commercials and corporate films for some of the largest companies in the world: Kodak, Wisk, Pepsi, Sony, Exxon, American Express, IBM and Xerox among many others. Batt has worked in feature films, plays, major magazines as a model, and host on TV home shopping, news, and entertainment shows. He is an experienced teacher who is taking his knowledge to the business community. He teaches:
Public Speaking at New York University
Public Speaking at Cornell University
Media Performance and Presentation and Broadcasting at the New York Institute of Technology
Acting at the Weist-Barron School of Television
Batt conveys skills to a host of clients, business professionals, authors, musicians, and professional athletes. They have learned from his many skills-the techniques that actors, broadcasters, politicians, and other public speakers use to deliver convincing messages.

He has developed unique coaching techniques that heighten communication skills and teaches his clients how to deliver their messages effectively, persuasively, while gaining the competitive edge. He views the act of persuasion as a critical link to becoming a powerful public communicator.

Batt is the author of Powerful Principles for Presenters, Rich and Famous in Thirty Seconds, What is This Thing Called Jazz?, and is currently writing Score! With The Media, a media training manual for professional athletes.




Batt Johnson is an award-winning veteran radio broadcaster, producer, writer, actor and voice-over artist. He is on the list of "Top ten morning radio broadcasters in America" in Radio & Records Magazine.
Voice-over Reel - Batt Johnson
Word History Mysteries
TELEVISION
The Gastineau Girls
E! Entertainment TV
One Life to Live
ABC-TV
Love, Sidney
NBC-TV
The Other Woman
CBS-TV Movie


TELEVISION HOST
Q2 Television
national host
QVC Networks
VH-1
national VJ music host
MTV Networks
Only One New York
Co-host, anchor
WNYC-TV PBS
Campus America
Co-host, anchor
NCTV Network
Infomercial
national and international host
Synchronal Corp.


FILM
Game Day
Featured Principal
Steve Klein, Dir. Independent feature
"Q"
Featured Principal
Larry Cohen, Dir. Independent feature
The Youngest Guns
Featured
An NBA Film


RADIO HOST

WQEW-AM, New York
SONY WORLDWIDE RADIO NETWORK, New York
WBLS-FM, New York
WQCD-FM, New York
WLTW-FM, New York
WKHK-FM, New York
WRVR-FM, New York
WNBC-AM, New York
KCMO-AM, Kansas City, MO
WHYI-FM, Miami, FL
KGFJ-AM, LA, CA.
WKTQ-AM, Pittsburgh, PA
KRIZ-AM, Phoenix, AZ
KUPD-AM/FM, Phoenix, AZ
KCBQ-AM, San Diego, CA
KPRI-FM, (KGB-FM) San Diego, CA
KBKB-FM, San Diego, CA




Batt earned his BA in social theory and media studies from Empire State College. He took courses at the New York Institute of Technology and New York University culminating in his MA in communications. He attended the Actors Playhouse, HB Studios, Weist-Barron School of Television, and the Bill Wade School of Radio and Television Broadcasting earning his first class FCC license.

top of page